Give the Gift of Words: Self-Publish a Book this Holiday Season!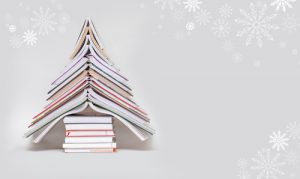 This year, instead of getting gift cards as Christmas gifts for book lovers, get them a book – one written by you. There are tons of self-publishing companies out there, but we think DiggyPOD is the best, not just because we print high-quality books, but because we let the author make every decision about how their book looks. No matter what kind of book you've written, we're the self-publisher for you. Our Print on Demand technology takes your manuscript and turns it into a bookstore-quality book, one you can give to relatives and friends this holiday season: the perfect gift for everyone on your list.
Choosing Between Self-Publishing Companies
Our advice is simple: when deciding between several self-publishing companies, do your research and make sure you're not getting into anything binding. The last thing you need, when self-publishing a book, is to be locked into an unfair contract. There shouldn't be a terms and agreements to your dream.
The DiggyPOD Difference
The POD stands for Print on Demand. Print on Demand helps writers in four key ways:
It controls inventory cost by allowing for small-runs of books.
You can easily order more if demand is high.
You can test marketability by printed advance reader copies.
Your book gets on the market fast.
The Best Christmas Gifts for Book Lovers
If you're having a hard time deciding what to buy for everyone on your list, why not give them a book written and published by you? Self-published books make great Christmas gifts for book lovers. They simultaneously convey thoughtfulness and love. Imagine the looks on your family members' faces when they open their gifts to see a book and it's your name on the cover. That would make for quite a memorable Christmas.
Any self-published book would be a wonderful gift, but we think four types of books in particular are especially unique Christmas gifts for book lovers.
Cookbooks
Pass along recipes that have been in your family for years. A family cookbook is a great way to do this. It will not only record and preserve favorite meals, but it will also immortalize family tradition.
Traditional publishing is a hard market to break into. Unless your cookbook has mass appeal, or you already have a success cooking blog/vlog/podcast/television show, it's highly unlikely that a traditional publishing house will buy your book.
Self-publishing is the way to go. Not only do you have complete creative control over the project, but you have control over how many copies are printed and how it's distributed. You don't have to sell your cookbook; you can give it away to whomever you'd like.
For cookbooks, we recommend using our 80# White Gloss Text paper to make images shine and a coil-binding so you can easily flip to your desired recipe and the book will lie flat.
Learn the recipe for a great cookbook here.
Genealogies
A genealogy is a family history book. Genealogies will often be part scrapbook, part memoir.
Your genealogy can look however you'd like it to. It can include letters, photographs, newspaper or magazine clippings, recipes, funny family stories, interviews with family members, copies of birth and death certificates, a family tree that includes as many generations as possible, etc. The possibilities are really quite endless.
For genealogies that are photo-heavy, we recommend using our 80# White Gloss Text paper to make the photographs come alive. For text-heavy books that still feature the occasional photo, we recommend 60# White or Natural Smooth Offset.
Learn more about your family's unique heritage. Check out this blog for more information on how to self-publish a genealogy with DiggyPOD.
Children's Books
Imagine that your first favorite book was one written by someone you know. This is why self-publishing children's books is so special: you can write the first book your children, nieces and nephews, or cousins read!
Children's books will often include a lesson tied into a colorful and fun story. They should include lots of pictures and/or illustrations to keep the child engaged.
If you've written a children's book, or are interested in doing so as Christmas gifts for book lovers, there are tons of self-publishing companies out there, but you just can't beat our quality.
For children's books, we recommend a hardcover binding. This gives little hands something to easily grab ahold of. We also recommend a paper that can support lots of color an images – 80# White Gloss Text should do the trick! You'll be amazed at how lovely your book will look.
Dig deep into your imagination and read this blog to get started on a children's book today.
Memoirs
If you're having a hard time deciding what to get for everyone on your holiday list, why not give them the gift of memories? Handmade presents are the most meaningful. Writing a memoir – thousands upon thousands of words, hundreds of pages – is the ultimate handmade gift.
A memoir tells your life story. You can include anything you'd like in your memoir: tales of your childhood, school recollections, fond memories with your spouse, precious moments with children and grandchildren, etc.
Your memoir can be a hardcover or paperback – whatever you'd like! Both are great options and both will look beautiful when unwrapped.
To learn more about writing a memoir, read this blog.
Happy Holidays from DiggyPOD
This holiday season, we wish you good cheer and good books. Self-published books are the best Christmas gifts for book lovers. Don't look to other self-publishing companies for your book printing needs. Look no further than DiggyPOD. We print thousands of books a year. We'd love to print yours.