Self-Publishing Poetry with DiggyPOD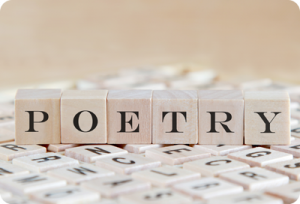 From quatrains to sonnets, free verse to doggerels, ballads to elegies, DiggyPOD is an industry leader in self-publishing poetry. Whatever your style, let DiggyPOD help you bring your verse to life when you print your own poetry book.
Poetry books, often called chapbooks, are a great way to showcase the poems you've been working on. Whether you plan on using them as a sample of your work to a prospective agent or handing them out to family and friends as a thoughtful gift, DiggyPOD will turn your work into a beautiful, professional-grade poetry book.
Self-Publishing Poetry and Chapbook Printing Made Easy
We are the go-to resource for writers interested in self-publishing poetry. DiggyPOD prints more than 100,000 books a month, perfectly customized to fit each writer's unique vision.
DiggyPOD understands that a book is a work of art and that every detail — from the cover to the paper weight, the images to the binding — matters. When you choose DiggyPOD for self-publishing poetry and chapbook printing, your vision comes to life exactly as you want it to. Poetry book printing at DiggyPOD is infinitely customizable.
We're so confident in the quality of our poetry book printing that we are happy to send any prospective poetry self-publisher a free sample book. See firsthand the quality of our paper, printing, cover and binding. Order your free sample today.
And, as always, if you have any questions about self-publishing poetry, call us at (877) 944-7844, where a real, live person will take your call.
We Are Proud of our Five Star Rating!

"The product was delivered exactly as promised in a timely manner. The customer service was also quite helpful. Overall I was quite satisfied and the person who received the books as a gift was delighted."
"I would like to thank you for all your help in getting my book published. I found the process to be very user friendly especially for a beginner like me. The books arrived and I was pleased on how professional they looked."
Subscribe to our
Publishing 101 Newsletter
Receive periodic updates on publishing best practices. No Spam Period!
Please enter a valid email address.