Give the Gift of Food: Self-Publish a Cookbook Today!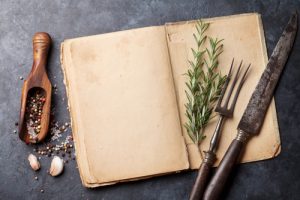 Deciding on the perfect gift for a family member or friend doesn't have to be difficult: self-publishing cookbook companies like DiggyPOD make it easier than ever. What better way to celebrate the holidays and the end of another year than by gifting your loved ones a family cookbook.
Self-published books make great holiday gifts. DiggyPOD's Print on Demand technology is able to print small runs of books, making it not only possible but also cost-effective to self-publish a cookbook just in time for the holidays. Other self-publishing cookbook companies may not be able to print such small amounts of books, requiring writers to commit to an absurd number of copies or sign a constricting contract.
When you self-publish with DiggyPOD, not only will you never sign a contract, you'll also never have to compromise what you imagine for your book. If you want to self-publish a limited number of cookbooks to give to loved ones during the holidays, we're the company for the job!
Why Should You Self-Publish a Family Cookbook?
If you have recipes that have been in your family for years, or if you want to start a tradition of passing down recipes from generation to generation, a family cookbook is a great way to do this. It's a way to not only record and preserve favorite meals, but it's also a way to immortalize family tradition.
Traditional publishing is a hard market to break into. Unless your cookbook has mass appeal, or you already have a success cooking blog/vlog/podcast/television show, it's highly unlikely that a traditional publishing house will buy your book.
Self-publishing is the way to go. Not only do you have complete creative control over the project, but you have control over how many copies are printed and how it's distributed. You don't have to sell your cookbook; you can give it away to whomever you'd like.
A meal is more than a meal: it is a symbol of love and care. A family cookbook then, too, is a symbol of the love within your family. How special would it be for a great-great-grandchild to someday pick up that book and recreate a meal within its pages?
Self-Publishing Cookbook Companies: Which Should You Pick?
Obviously, we're a little biased. Choosing DiggyPOD to self-publish your cookbook is the best decision you can make for your work.
We make it easy to take your cookbook from a Microsoft Word file saved on your computer to an actual, physical, beautiful book on your shelf (or in your kitchen!). DiggyPOD's comprehensive how-to guides, easy-to-use templates, and step-by-step video instructions pave the way for your cookbook.
Fun fact: DiggyPOD is one of the leading self-publishing cookbook companies in the United States. We've published thousands of cookbooks. We currently publish a variety of cookbooks: fundraiser cookbooks, family cookbooks, church cookbooks, cookbooks for catering companies, and even cookbooks for restaurants. With easy-to-use printing and publishing tutorials, we take the stress out of gift-giving, letting you focus on what really matters this holiday season: family, friends, and food.
Keep in mind the most important requirements for self-publishing a family cookbook are the following:
The company does not require a contract or purchase of a publishing "package."

Contracts and publishing packages mean one thing for you: trouble. Don't get locked into anything binding. DiggyPOD never requires the signing of a contract or the purchasing of a package.
You are the sole publisher and owner of any copyright or ISBN.

If a company offers to provide the copyright or ISBN,

don't do it.

No one but the author should own the copyright or ISBN. While this means a little more work on your part, it also means that ownership of your creative work remains yours and yours alone.
There's no requirement to sell your book. You decide how to distribute the copies you order.

The company you choose shouldn't require that you sell your self-published book online or in stores, especially when it comes to a family cookbook. At DiggyPOD, we simply print your book; what you do with it is up to you.
You make all the decisions concerning your family cookbook, including paper stock, binding style, cover design, etc.

These decisions are important, and self-publishing offers the unique opportunity for writers to be not only involved every step of the way, but also

in charge.
Decisions like these are crucial, and self-publishers should take care when selecting a company to print their work. There are a lot of self-publishing cookbook companies out there, and not all are going to put the author first.
Self-Publish a Family Cookbook for the Holidays
It's true that when it comes to gift-giving, it's the thought that counts. This holiday season, self-publish a cookbook for the ultimate thoughtful gift. Whatever winter holiday you celebrate, show your loved ones how much you care by writing and publishing a family cookbook.
Cookbooks have an intrinsic value that is timeless and long-lasting. The family recipes you fill your cookbook with will endure. They'll assure the people on your list that you care deeply for them. They can use those recipes time and time again. What better way to preserve your family's most treasured recipes?
Plus, if you publish your family cookbook with DiggyPOD, they're very affordable, which is the number one thing any gift-giver is looking for. When you published with DiggyPOD, you're guaranteed an affordable rate for a quality product that your family and friends will love. Plus, if you order 100 or more copies, your shipping is free!
This holiday season, give more than just a gift. Give memories, give family tradition, and give great food – all wrapped up in one, perfect, self-published family cookbook. Out of all the self-publishing cookbook companies, choose DiggyPOD to self-publish your family cookbook this holiday season.