Spiral Bound Book Printing that's Affordable
One of the biggest cost factors when producing spiral bound book printing is printing pages in full color. Most spiral bound printers, make you either print the whole book in color or black and white. At, DiggyPOD we print all of our covers in full color and then laminate the covers to help protect the spiral bound book.
You can also print the inside pages in full color, or mix and match what pages you want to print in color and black and white. By only printing certain pages in full color and the rest of the inside pages in black and white is a huge cost savings. See how much your spiral bound book printing will cost by using our Instant Pricing Calculator.
Coil Bound Book Printing Advantages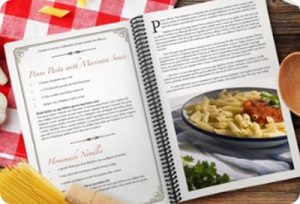 The biggest advantage to printing a spiral bound book is they lay flat. Unlike a traditional paperback book binding that will tend to close and not lay flat. When the book lays flat, you don't have to worry about losing your spot in the book because it closed on you.
Coil binding is great for these type of books:
Cookbooks
Training Manuals
Employee Manuals
Membership Directories
User Manuals
Calendars
Product Catalogs
File Prep and Specifications for Spiral Binding
At DiggyPOD we need a print ready PDF file with all the fonts embedded. You can learn more about creating a PDF file by watching our video tutorials on file preparation. We also recommend that the inside margin be a minimum of a ½", so your type does not get cut off when we punch the holes in the paper for the coil. You will also want to make sure the outside, top and bottom margins are also a ½" for coil bound books. We do not charge extra for bleeds.
We use black coils, but if you want a colored color, feel free to give us a call, and we will see if the color is available. Color coils usually add about $30.00 to the overall cost and do take a few days to come in.
At DiggyPOD, we provide the best service and quality possible. We only use state-of-the-art equipment, and highly skilled workers. Feel free to request a free sample book, so you can touch and feel the quality that we offer.
If you have any questions about coil bound book printing, please give us a call at 1-877-944-7844.
We Are Proud of our Five Star Rating!

"The product was delivered exactly as promised in a timely manner. The customer service was also quite helpful. Overall I was quite satisfied and the person who received the books as a gift was delighted."
"I would like to thank you for all your help in getting my book published. I found the process to be very user friendly especially for a beginner like me. The books arrived and I was pleased on how professional they looked."
Subscribe to our
Publishing 101 Newsletter
Receive periodic updates on publishing best practices. No Spam Period!
Please enter a valid email address.