Give the Gift of Family: Self-Publish a Genealogy Today!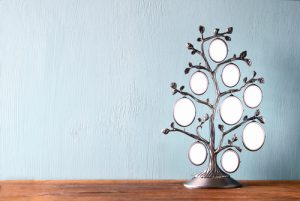 Are you looking for the perfect holiday gift for your family and loved ones? Why not self-publish a book? We've already discussed the merits of self-publishing a family cookbook, but there are other options as well. Genealogy books make great, personalized gifts. With DiggyPOD's Print on Demand technology, self-publishing genealogy books online has never been easier.
This holiday season, no matter what you celebrate, celebrate family by self-publishing a genealogy.
What are Genealogy Books?
The definition of "genealogy" is a line of descent traced continuously from an ancestor.
Or, more simply, a genealogy is a family tree or a family history book. It records and celebrates your family's story. Think of it as a memoir, but for your whole family and ancestral line.
How your genealogy will look on the page depends entirely on your preference. This is the great thing about self-publishing genealogy books online: you get to decide everything.
There are two main ways of storytelling when it comes to writing genealogy books: memoir and scrapbook. What you rely on will depend on your skillset, writing ability, and information available to you. Here's the difference:
Memoir

– This style is writing-heavy. Document your family's stories with journal entries, letters, and newspaper clippings. Interview grandparents, great-grandparents, aunts, uncles, cousins, etc.

Scrapbook

– This style is photo-heavy. If you have a lot of images documenting your family's history, scan and include in your genealogy for a more visual experience.
Of course, the best genealogy books will blend these two styles by relying equally on images and narrative to tell a comprehensive family history. Your genealogy can look however you'd like it to. It can include letters, photographs, newspaper or magazine clippings, recipes, funny family stories, interviews with family members, copies of birth and death certificates, a family tree that includes as many generations as possible, etc. The possibilities are really quite endless.
One side effect of writing genealogy books? A new closeness with your family. You'll need to rely on your relatives to source the materials for your book, and in doing so you'll spend more time with your family, whether in person or in conversation.
How to Self-Publish Genealogy Books Online
There are tons of self-publishing companies to choose from. The decision may seem overwhelming. What matters most, in the end, is the work itself – the hours of researching, writing, and editing that made it what it is.
A lot of self-publishing companies operate online, so self-publishing a genealogy is, in fact, pretty easy! The hardest part will be deciding which company to print your book. After that, the process should be relatively easy. Each company will have specific printing parameters and specifications that must be adhered to in order for your book to print correctly. Our advice? Stick with Print on Demand companies, like DiggyPOD!
The Benefits of Print on Demand
Print on Demand is exactly what it sounds like: fast printing when you want it! DiggyPOD's state-of-the-art Print on Demand technology is super beneficial to writers in the following ways:
Print on Demand controls inventory cost.

Printing in large quantities can be very costly which is why it helps with budgeting with short run order sizes.

It can easily fill orders for backlist titles

. In case of extra demand from a book signing or a surge in online orders sporadically, it makes sense to have a small quantity of prints stored safely to meet demand when least expected.

Writers can test marketability with advanced reader copies.

First editions are often utilized in a smaller run to see if the book has teeth and is readily consumed.

Print on Demand gets your book to market much faster.

Producing a book through a company that does

not

use print on demand technology, can take anywhere from four to six weeks.
The most important takeaway is this: Print on Demand saves you money. You don't need to print thousands of books in order to break even with production costs. Print on Demand technology is made to print small quantities of books, which makes it perfect for self-publishers.
When researching how to publish genealogy books online, look to DiggyPOD. Since our start, we've printed beautiful, bookshelf-worthy books. We've either used or demoed all sorts of digital equipment, including Xerox, Oce, Canon, Heidelburg, Konica Minolta, and more. We found what prints the best, enabling us to give our customers the best quality genealogy books possible.
Genealogy Books as Gifts
A self-published book makes a great gift no matter what winter holiday you celebrate. It conveys love, thoughtfulness, and appreciation. Genealogy books especially show the love and pride you have for your family.
Imagine the looks on your loved ones' faces when they tear off the wrapping paper to reveal a book written by you. Better yet, it's a book entirely about the family they're a part of: where they come from and where they've been. The holiday season is the perfect time of year to reflect on what's important to us. Family should always come first, and writing genealogy books immortalizes this.
Sure, you could get your loved ones socks or gift cards, but why not give them a gift they'll remember for years to come? A gift they could point to on their shelf, or take down and show someone this is my family, this is our story.
There are tons of companies that print genealogy books online. Choose a company that won't take control or trick you into binding contracts. The important thing is self-publishing this genealogy and giving it to your loved ones. DiggyPOD knows this. Self-publish your genealogy books with DiggyPOD!
Learn your family's story. Write it down. Self-publish it. Share it. Remember it forever.