How Much Does it Cost to Print a Book?
Book printing cost will vary depending on the amount of books you are producing, the trim size, page count, paper options, and any other additional book printing services you choose when quoting your book using our Instant Book Quote Calculator.
Book Printing Pricing Example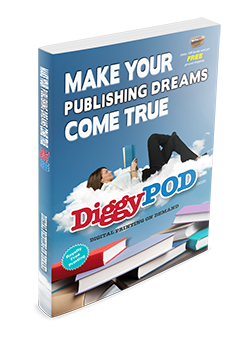 Book Size:  5.5" x 8.5"
Pages:  68 B&W Pages
Paper Stock:  50# White Offset
Binding:  Perfect Bound (Paperback)
Full Color Gloss Laminated Cover
50 Books – $4.35/Book + Shipping
100 Books – $3.34/Book + Free Shipping
250 Books – $2.65/Book + Free Shipping
300 Books – $2.59/Book + Free Shipping
500 Books – $2.16/Book + Free Shipping
1000 Books – $1.86/Book + Free Shipping
Notice that the price per book goes down with the more books you order. The reason the cost per book goes down, is because on each order there are set-up cost for our file review, digital presses, and book binding equipment. When you print more books these set-up costs start to be absorbed into the book printing pricing. Once these set-up costs become absorbed into the price per book, you are only paying for the machine time, labor, and material cost that are needed to print a book.
Cost to Publish a Book - What's Included?
DiggyPOD's cost to publish a book includes printing the outside front and back covers in full color on 10pt C1S Cover stock, and then we apply a free gloss lamination. You also have the option of choosing a Matte Lamination for a dull look, but this does cost a little bit extra. Feel free to review our book printing cover options.
Each new order includes a Free Online PDF Proof. The self-publisher must approve the online proof before we go to press. We also offer physical bound and unbound proofs at an additional cost.
When you use the book printing cost calculator, you can specify the paper stock, binding style, final trim size, and the production speed that you need, and choose any additional services we offer. And if you enter your zip code in the pricing calculator you will be able to get a shipping price as well. But, if you are ordering 100 books or more, the book order is eligible for Free Ground Shipping.
Not sure what paper option is right for your book, feel free to request our Free Sample Book. Inside our sample book, will have the different paper stocks we offer, and show you the quality of our printing and binding.
Save Your Book Printing Quote
When you use the book printing price calculator, you can save your book printing quote, by simply creating an account. Simply click on the Save Quote Button, and enter your email address and a password. You can then come back later and login to edit the quote, add files, or even ask us questions about your book printing quote. Don't worry — we never spam or share your email.
Watch for Deceptive Book Printing Pricing
A word to the wise, many so called book printing companies or vanity presses offer what seems like great pricing, but the devil is in the details. For instance, most of these deceptive publishers or presses will lure you in with a really cheap printing price, but then have you sign a contract, locking you into their fine print of royalties, ownership of your files, marketing agreements and all sorts of things that will prevent you from making any real money on your self-published book you worked hard to pay for.
A true book printing company will never make you sign a confusing contract padded with hidden expenses, or not be completely transparent about the printing process. If you have any questions about features and option costs when printing your book, we are here to provide you any assistance.
Feel free to give us a call at 1-877-944-7844, if you have any questions. Our customer service staff will give you straight forward answers about your book printing cost, and are here to help you understand the book printing process.
We Are Proud of our Five Star Rating!

"The product was delivered exactly as promised in a timely manner. The customer service was also quite helpful. Overall I was quite satisfied and the person who received the books as a gift was delighted."
"I would like to thank you for all your help in getting my book published. I found the process to be very user friendly especially for a beginner like me. The books arrived and I was pleased on how professional they looked."
Subscribe to our
Publishing 101 Newsletter
Receive periodic updates on publishing best practices. No Spam Period!
Please enter a valid email address.