We are currently offering Free Ground Shipping on orders of 100 or more books. To qualify for the Free Ground shipping you must ship at least 100 books to each location you are shipping the books to. For instance if you are printing 100 books, and shipping 100 books to 1 location, then the Ground shipping is free. But if you want to ship 50 books to two different locations then your order will not qualify for the free shipping offer. The Free Ground Shipping offer is for the lower 48 states of the U.S.A only.
Free shipping is a great savings for the Self-Publisher, considering how much books weigh and what the cost can be for shipping.
Book Shipping and Delivery
Please note, that shipping time does not include the time it will take to produce your book. We offer free ground shipping on orders of 100 or more books. In addition to ground shipping, we also offer these shipping methods:
3-day shipping
2-day shipping
Overnight shipping
When you need your books by a certain date, it is more economical to upgrade your production speed than pay the expedited shipping services. The expedited shipping service charges are like buying a seat on an airplane for your books. If you need your books in a hurry, give us a call, and we will work with you to meet your deadline.
Shipping costs depend on the amount of books and the method of shipping. To determine your shipping costs, enter your ZIP code into our book printing price calculator. Note: we only ship to the contiguous United States.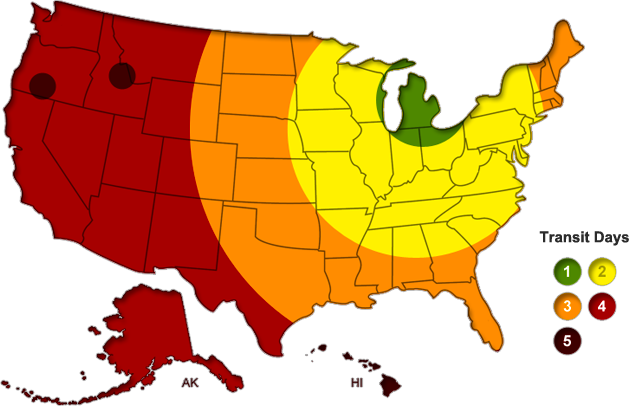 Have a question about shipping or production times when self-publishing with DiggyPOD? Call us at (877) 944-7844. Our friendly and helpful customer service agents are standing by.
We Are Proud of our Five Star Rating!

"The product was delivered exactly as promised in a timely manner. The customer service was also quite helpful. Overall I was quite satisfied and the person who received the books as a gift was delighted."
"I would like to thank you for all your help in getting my book published. I found the process to be very user friendly especially for a beginner like me. The books arrived and I was pleased on how professional they looked."
Subscribe to our
Publishing 101 Newsletter
Receive periodic updates on publishing best practices. No Spam Period!
Please enter a valid email address.