End of the Year Self-Publishing Goals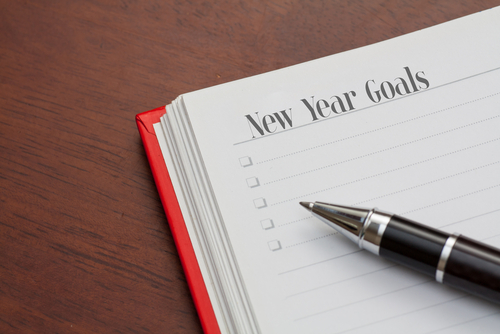 At the beginning of 2019, we wrote a blog about setting writing goals for the new year. Authors succeed when they set writing goals to achieve throughout the year. Self-publishers may have different writing goals. Maybe you set a word count to hit each day, or maybe you wanted to write and edit one poem a week. It doesn't matter what kind of goal you set, as long as it was realistic and personal. Now, just a month away from the new year (and a new decade!), DiggyPOD wants to revisit the writing goals you set back in January. We're here to make your goals a little easier to achieve with our live customer service, free downloadable templates, tools, guides, and more. Self-publishers always have DiggyPOD to rely on.
New Year, New Goals: Setting Goals for 2020
If you met your 2019 writing goals, congratulations! What an incredible feeling that must be. Don't lose that momentum, though. For 2020, set new goals. Push yourself to a new limit. If you self-published a novel in 2019, try for another in 2020! Or, try writing in a new genre! Push your boundaries as a writer this year.
Like setting a New Year's resolution, setting writing goals at the beginning of each year provides a commitment to hold yourself accountable to throughout the following twelve months. Your goals should be smart — that is, measurable and attainable. Remember the suggestions we offered at the start of the year:
Start small.
Choose a goal that works for your schedule.
Beware of burn out.
Reward yourself.
Start Small
We recommend setting small, achievable goals to start. Start with writing goals that you can cross off your to-do list easily. Maybe this means starting by writing for just ten minutes a day, and then steadily increasing your goals. Write for ten minutes, then twenty, then thirty, until you're writing every day without even thinking about it. By lining your path to self-publishing a book with small writing goals, you're setting yourself up for success by avoiding the dreaded burnout.

Choosing Writing Goals That Work for Your Schedule
Every self-publisher's life is different. Some work forty hours a week. Others take care of the children. Some work and take care of kids. Find a way to fit writing into your daily schedule. For some self-publishers, this might mean waking up a little earlier each day. For others, maybe you squeeze in a few hundred words during your lunch hour. Make sure your goals work for your schedule.
Beware of Burn Out
Beware of goals that will have you burning the midnight oil or stressing to get a chapter finished in time. Burn out is real, and it can be debilitating for self-publishers. Some days will be more productive than others; some days you may not get any words on the page at all. However it's important to not let your writing be defined by these bad days.
Reward Yourself Along the Way
Writing is hard! You deserve to feel proud of the work you're doing, so remember to reward yourself for meeting that weekly word count or editing that chapter of your manuscript.
What If I Didn't Meet My 2019 Writing Goals?
If you didn't meet last year's writing goals, that's okay. Setting and keeping New Year's writing goals can be incredibly difficult, even for seasoned authors.
Let's look at some reasons why you might not have met your 2019 writing goals:
The goals you set were difficult to achieve.
The goals you set did not fit into your schedule.
Life got busy.
The Goals You Set Were Difficult to Achieve
This is the most common issue we see. A lot of writers get excited when setting writing goals (who wouldn't?). As a result, however, they tend to set goals that are not realistic. Therefore it's important to remember that writing a book is a marathon, not a sprint.
For example, it's unrealistic to think you'll write a book in a few weeks, self-publish it, and be done. Every aspect of the self-publishing process requires dedication, precision, and hard work. From idea conception to writing to editing to designing to converting your manuscript into print-ready files, self-publishing your book is definitely a marathon, but one so worth it in the end.
The Goals You Set Did Not Fit Into Your Schedule
This is another common mistake we see self-publishers making. If your goal is to write, edit, and self-publish a book in 2020, that's great! It's definitely an attainable goal, however you need to set smaller, achievable goals along the way that fit with your day-to-day life. Think of these writing goals as accountability checkpoints or progress reports. If small goals line the path to one big goal (self-publishing a book), then it'll feel more achievable and not so intimidating.
Life Got Busy
We get it. Even with the best intentions and practices, sometimes things just get lost amidst the busyness of your life. Even if you set realistic, achievable goals that work with your schedule, sometimes life gets in the way. Don't let this discourage you from trying again. Set new goals for 2020, and this time, allow us to help you.
DiggyPOD is Here to Help with Your Writing Goals
When you self-publish with DiggyPOD, you're not going it alone. Self-publishing doesn't need to be a solitary experience. That's why we offer live customer service, free downloadable templates, tools, guides, and this blog.
Our customer service representatives are available to answer any and all questions you may have about the self-publishing process. In fact, we love engaging with authors and listening to how we can bring their passions come to life on paper. Feel free to call us at 1-877-944-7844 if you have any questions.
When the time comes to self-publish your book, you'll find our website has tons of valuable tools, guides, and templates to make the process as easy as possible. Whether you need help converting your manuscript into a print-ready PDF, or you don't know how to set up your book cover, we're there to help.
Along the way, you'll find all the motivation and self-publishing tips you need on our blog.
Let's start 2020 off strong. What writing goals will you set? Let us know in the comments!