Give the Gift of Reading: Self-Publish a Children's Book Today!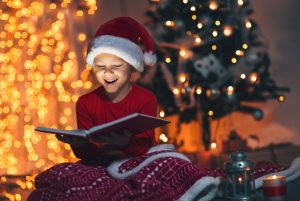 Do you remember the first book you ever read? The first one you selected from your bookshelf or from the library at school and flipped through, reading the words all by yourself? What about your first favorite book? The first book you didn't want to put down? This is the beauty of literature: how it can affect and mold our lives. Now, imagine if your first favorite book was one written by someone you know. This is why self-publishing children's books is so special: you can write the first book your children, nieces and nephews, or cousins read!
If you've ever considered self-publishing children's books, there's no better time than the present to make your dreams come true. What's even better: children's books make great presents, so no need to stress this holiday season!
Self-Publishing Children's Books with DiggyPOD
Do you have a children's book you'd like to self-publish? Look no further. DiggyPOD publishes nearly 100,000 books a year, many of them children's books. We've been in the self-publishing and printing business for twenty years, and our focus remains the same: printing beautiful, bookshelf-worthy books that authors will be proud of.
We offer the highest quality children's book printing at a low price — that's the DiggyPOD guarantee. We stand behind the quality of all our books, and we want you to choose DiggyPOD with confidence. That's why we offer a book sample. Order yours today—completely cost-free!—to see the quality of our paper, printing, color, cover options, and more. These components will be crucial when self-publishing children's books. Children's books almost always have accompanying graphics, photographs, or illustrations, so paper, printing, and color quality must be top notch!
DiggyPOD offers 5 paper options:
50# White Smooth Offset

60# White Smooth Offset

60# Natural Smooth Offset

70# White Smooth Offset

80# White Gloss Text
For self-publishing children's books, we recommend either 60# White or Natural Smooth Offset or 80# White Gloss Text. Both of these are great options for books that feature both text and images.
We also offer the option of printing in black and white only or in full color.
Binding style is another decision you'll need to make when self-publishing children's books. DiggyPOD offers the following binding styles:
Perfect binding

Spiral binding

Hardcover
We'd recommend hardcover binding for children's books. This makes it easier for small hands to hold onto it and flip through its pages.
If you're having a hard time making these decisions, visit a bookstore to see what recently published children's books look like. Note what you like about them and what you'd change. Become familiar with your genre before you self-publish in it.
Components of a Children's Book
Reading is so important for kids. Even before children can read, it's critical that they're read to, by parents, guardians, babysitters, or other family members. The National Center for Education Statistics reports that children who are read to frequently are more likely to:
count to 20, or higher than those who were not (60% vs. 44%)

write their own names (54% vs. 40%)

read or pretend to read (77% vs. 57%)
These same kids will pull from these experiences as they age. Children who are read to frequently will read more independently when they are older than children who aren't read to. Therefore, children's books – whether they're read by the parent or by the kid—are integral to the development of the child. That's why writing a children's book—or several children's books, for that matter—is such an important task.
First, you need a story. Not just any story, though. You need a story that teaches some kind of lesson or moral. Children's books are often allegories or instructional. They're written for growing minds, minds that have yet to experience much of human existence. The plot should be understandable by a child, obviously, but it should also work to teach a lesson. The moral of the story should be clear enough that a kid can understand, but you shouldn't need to spell it out. This can be more difficult than it seems. It's hard enough to craft a plot, but to imbue that plot with a lesson can be even harder. There's a reason people say that the way you can tell if someone truly understands something is if they could explain it to a five-year-old. That's because it has to be broken down simply, therefore you have to know it inside and out.
Next, you need images—photographs or illustrations. Children's books are always incredibly visual because this helps kids understand the story and learn (and it's also more exciting for them!). Illustrations or other images are a very important part of children's books, because they're a great way to interact with the story and bring it to life for the reader or listener. Children have unfettered imaginations, and illustrations help them run wild.
Children's Books Make Memorable Gifts
Self-publishing children's books can make a huge difference in the life of a child. Self-publishing children's books in time for the holidays ensures each person on your list receives a unique, thoughtful, and fun gift.
At DiggyPOD, we make self-publishing children's books easy and affordable. To see how much publishing your book will cost, you can use our Book Printing Price Calculator. AND if you order 100 copies or more, your shipping is free!
This holiday season, give the gift of reading, of learning, of experiencing. Self-publishing a children's book will be a fun, creative process for you, the writer. You'll get to tap into your inner child. Gifting your book to loved ones (your kids, nieces and nephews, cousins, etc.) will remind you what the holiday season is all about: love, family, and cheer.