While you can't judge a book by its cover, you can judge a printer by the types of book covers they provide. That's why DiggyPOD exclusively uses Gloss Layflat Laminate when creating gloss laminated book covers. Gloss Layflat Laminate provides superior protection for your book — not only does it leave your book with a professional, high-gloss look, it keeps your book safe from spine cracking.
Some book printers use UV coating, which is a cheap alternative to Gloss Layflat Laminate. Gloss Layflat Laminate is a 1.2-mil thick coating of melted plastic. UV coating, on the other hand, is a very thin layer of gloss liquid coating put to paper that will crack eventually. Take a look at the difference between UV coating and Gloss Layflat Laminate below: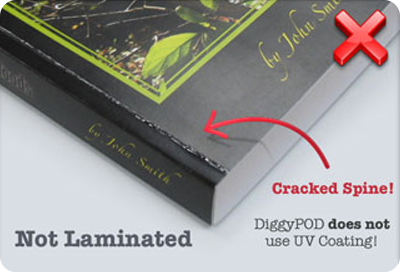 Our gloss-laminated book covers keep your book looking clean. Fingerprints wipe off with ease, the spine remains intact, and, as the name suggest, Gloss Layflat Laminate actually helps the book cover lay flat.
The layflat laminate is designed to help book covers lay flat and help the cover from curling after a book has been read. Please keep in mind that book covers are made from trees, and are a wood product. Wood products, can expand with excessive humidity and shrink with not enough humidity, and books will do the same.
If you ever visit a bookstore, you may see books displayed with a light shining on them. Most of the time, the cover will be curled. The bright light has pulled out the humidity of the book cover and dried out the paper fibers. Once the paper fibers are dried out, they become brittle and will break when bending the cover open to read the book, and this leads to curling book covers.
Always remember to store your books in a humidity controlled environment to avoid curled book covers. Learn more about book storage at Library of Congress.
DiggyPOD also provides matte lamination for your book covers. This is a great option when you want your book to have a more muted look. Matte lamination costs a little bit more because the material is quite expensive, but if you want your cover to have that flat look, then matte lamination is for you. Use our price calculator to see the cost difference for your particular book order.
If you'd like to see the quality of our laminate book covers firsthand, please request a free sample book. If you have any questions, please call us at (877) 944-7844.
We Are Proud of our Five Star Rating!

"The product was delivered exactly as promised in a timely manner. The customer service was also quite helpful. Overall I was quite satisfied and the person who received the books as a gift was delighted."
"I would like to thank you for all your help in getting my book published. I found the process to be very user friendly especially for a beginner like me. The books arrived and I was pleased on how professional they looked."
Subscribe to our
Publishing 101 Newsletter
Receive periodic updates on publishing best practices. No Spam Period!
Please enter a valid email address.