On Demand Book Printing — Print on Demand Advantages
Using a book manufacturer that specializes in print on demand, publishers can get books produced in short runs and save money for a number of vital reasons:
Control inventory cost. Printing in large quantities can be very costly which is why it helps with budgeting with short run order sizes.
Fill orders for backlist titles -- In case of extra demand from a book signing or a surge in online orders sporadically, it makes sense to have a small quantity of prints stored safely to meet demand when least expected.
Test marketability with advance reader copies. First editions are often utilized in a smaller run to see if the book has teeth and is readily consumed.
Get your book to market much faster. Producing a book through a company that does not use print on demand technology, can take anywhere from four to six weeks.
You also don't need to invest thousands of dollars in a massive stock of inventory. You can print the quantity of books you need, and keep your money free to promote, market, and sell your book. Then, when you inevitably need to order more books, you simply order what you need to replenish your inventory.
Print on Demand vs Offset Presses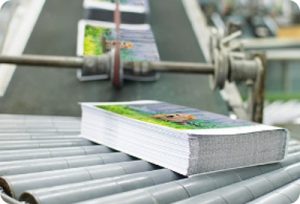 Offset presses are used by large book manufacturers and require expensive plates, chemicals, ink, and highly skilled operators to run them. The time it takes to set-up the offset press is very expensive, because of the hourly rate of the machine and the high labor cost. Then you have to add in the cost for making the plates, ink usage, and paper cost. With all of these set-up cost you typically have to print anywhere from 3000 to 5000 books to get the cost per book down to make a profit. Not to mention that you also have to sell all of those books or you will take a loss.
When using Print on Demand, you don't use expensive printing plates, and there is very little set-up. A digital press operator can run multiple machines at the same time, saving on labor cost. This technology uses a toner or liquid ink to print with, so there is very little waste, and it is much better for the environment. You can print short runs of a book, and still make a profit.
On Demand Book Printing Technology
Print-on-demand book companies use digital printing presses exclusively. These machines are not your typical copy shop equipment. A POD press (which can cost more than $500,000) mirrors offset printing.
We have either used or demoed all sorts of digital equipment, from Xerox, Oce, Canon, Heidelburg, Konica Minolta, and others. We found what prints the best and mirrors offset quality, enabling us to give our customers the best quality printed book possible.
It is important to make sure you chose a company that uses the best on demand technology available, and that it matches offset quality. The last thing you want to happen when getting your book produced, is to end up with fat looking type, or really dark photos. Please read more about black and white printing technology.
DiggyPOD: The On Demand Book Printer for You
We were one of the very first companies in the United States to embrace the print-on-demand market. Since our inception, we have used only the highest quality technology available. We take great pride in delivering the best print-on-demand books to our customers.
We have had numerous equipment manufacturers ask us to give tours of our facilities, so other companies can see our on-demand book making technology in action. In 2007, Oce even wrote a case study about how DiggyPOD is a leader when it comes to producing books on demand.
If you are looking for a print on demand book printer, with great customer service, outstanding quality, and straightforward pricing, then DiggyPOD is for you.
We have been offering self-publishers Print on Demand services since 2004. We were one of the very first online companies to offer authors short runs. Our company DiggyPOD, a name that represents exactly what we do: Digital Book Printing On Demand.
See our quality in action and order our free sample book so you can see and feel our print quality. If you have any questions about our print-on-demand books or technology, please call our customer service team at (877) 944-7844.
We Are Proud of our Five Star Rating!

"The product was delivered exactly as promised in a timely manner. The customer service was also quite helpful. Overall I was quite satisfied and the person who received the books as a gift was delighted."
"I would like to thank you for all your help in getting my book published. I found the process to be very user friendly especially for a beginner like me. The books arrived and I was pleased on how professional they looked."
Subscribe to our
Publishing 101 Newsletter
Receive periodic updates on publishing best practices. No Spam Period!
Please enter a valid email address.