Best Paperback Book Printing
Get started printing paperback books. Most readers prefer softcover books (also called a trade book) to hard bound books as they are easier to transport, and are much cheaper to produce and buy. You can print a bookstore quality paperback book affordably and easily with DiggyPOD. Get an Instant Price for your paperback book printing project.
At DiggyPOD, we use state-of-the-art perfect binding machines. Our perfect binders will roughen the binding edge of the text, so the glue will penetrate the paper fibers and make the binding strong. We also score the cover and apply a side glue to ensure that the covers do not pull away from the text (this is called a hinged paperback binding).
Pick a Quality Perfect Bound Book Printer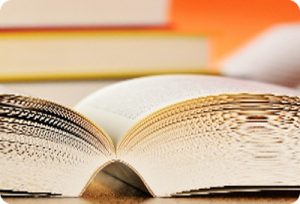 When researching paperback printers to produce your perfect bound books (also known as paperback binding), make sure they use state-of-the-art equipment. You will want to avoid printers or copy shops that specialize in primarily printing copies. These companies don't have the experience or the right type of perfect binding equipment to give you the bookstore quality that is needed to make your book sellable. Avoid any printers that don't offer a hinged binding, and make sure you review a sample of their work as well.
You will also want to make sure that the paperback book printer actually binds the books in-house. A printer that outsources the perfect binding will not be able to have the same quality control compared to binding the books themselves.
Also make sure that the printer laminates the book covers, and does not use a gloss coating. When books are bound without a laminated cover, the final trim can leave fuzzy and ragged trim. The book cover will most likely crack along the spine as well. To see a photographic example of a laminated and unlaminated cover visit our cover options page.
Review our Paperback Binding - Free Sample
We are one of the very few companies that will actually send you an example of our perfect bound book. If you'd like to see the quality of our paperback bind firsthand, please request a free sample book. We will send out a book to you first class mail, and it is no cost to you.
If you have any questions about our book binding or any other topic, please call us at (877) 944-7844.
We Are Proud of our Five Star Rating!

"The product was delivered exactly as promised in a timely manner. The customer service was also quite helpful. Overall I was quite satisfied and the person who received the books as a gift was delighted."
"I would like to thank you for all your help in getting my book published. I found the process to be very user friendly especially for a beginner like me. The books arrived and I was pleased on how professional they looked."
Subscribe to our
Publishing 101 Newsletter
Receive periodic updates on publishing best practices. No Spam Period!
Please enter a valid email address.