Custom Book Printing and Book Sizes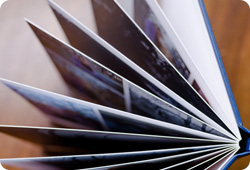 Do you want a custom book size when you print your book? What trim size is right for your book? At DiggyPOD, the size of your published book is entirely up to you. The decision can be based on cost, content, the way it looks, or the way it feels in your hand.
Authors of children's books with lots of images often opt for a larger size book. Novels are typically printed at 5.5" x 8.5". Religious or Faith Based Books are mostly 6" x 9". Yearbooks, Genealogy, Handbooks, Text Books, and Manuals are usually printed at 8.5" x 11".
Also be aware as the self-publishing author that bookstores, and even buyers, will need to negotiate shelf space and organization to appropriately display all authors' work. If you have selected to have your custom book printing size unusually wide or tall, or even small, it may fail to fit neatly amongst the other published works of your genre nor capture the best shelf space due to what limitations a store shelf offers.
There are three industry standard book sizes: 5.5" x 8.5", 6" x 9", and 8.5" x 11". Most of the books we print are these standard sizes, but we also do some custom sizes as well.
At DiggyPOD, we publish books in nine different sizes, allowing your book to come to life exactly how you imagine it. You can choose from these book sizes, listed here in inches, or print your own custom book size.
4" x 6" Portrait or Landscape
5" x 7" Portrait or Landscape
5" x 8" Portrait or Landscape
5.5" x 8.5" Portrait or Landscape
6" x 9" Portrait or Landscape up to 1/2" Thick
7" x 10" Portrait Only
8" x 10" Portrait Only
8.5" x 8.5" Portrait Only
8.5" x 11" Portrait Only
DiggyPOD also offers free Word Templates for these book sizes, to help you get your book into the correct size.
Custom Book Printing Sizes
Interested in publishing a book size that is not listed here? Let us know! The minimum book size we can print is 4" wide by 6" tall and the maximum size is 8.5" wide by 11" tall.
We are one of the few book printers that accommodate almost any custom book size request.
Custom book sizes don't cost extra at DiggyPOD, but you must remember to use the correct size when pricing your book with our quote calculator. If your custom size book is a 6 x 8.5 size, you will use the 6 x 9 book size on our pricing calculator. The reason for this is that the 6 x 8.5 custom book size needs to go onto a larger sheet of paper to print the book.
When ordering your book with a custom page size, just leave us a message in the additional comments sections of the order form about the size of book you are requesting. DiggyPOD will update the order to the custom book size once the order is received.
Custom Book Sizes - Landscape Printed Books
Most books are printed in portrait orientation, but there are a few exceptions where books print in a landscape format. Most landscape printed books are Children's Books, or Art books.
At DiggyPOD we can print and perfect bind a Landscape book as long as the total book length of the cover is no bigger than 18.5" long. For instance an 11 x 8.5 Landscape Book Cover would be 22" in length without a spine bulk. Due to our digital printing equipment limitations, we cannot print an image that big. But, if you want a Coil-Spiral Bound Book in landscape format we can print it with no problem, because the front and back covers do not have a spine on them.
If you have any questions about book sizes or custom book printing services, please call us at (877) 944-7844. You'll always talk to a real, live person always answers the phone during business hours. At DiggyPOD, we're happy to help turn your publishing dream into reality.
We Are Proud of our Five Star Rating!

"The product was delivered exactly as promised in a timely manner. The customer service was also quite helpful. Overall I was quite satisfied and the person who received the books as a gift was delighted."
"I would like to thank you for all your help in getting my book published. I found the process to be very user friendly especially for a beginner like me. The books arrived and I was pleased on how professional they looked."
Subscribe to our
Publishing 101 Newsletter
Receive periodic updates on publishing best practices. No Spam Period!
Please enter a valid email address.