Self-Publishing When You're Not a "Writer"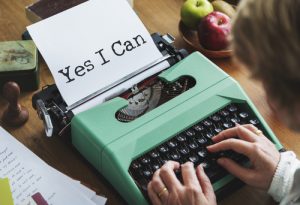 A lot of our blog posts lately have been targeted toward self-identified "writers" (novelists, poets, memoirists)—whether that's people who have published before, people who wish to publish, or people who simply believe they have what it takes to be an author. Because of this, a lot of the content can be skewed toward creativity, storytelling, fiction, and the writing process. We at DiggyPOD, however, know that self-publishing draws in quite the crowd—and that crowd isn't always limited to writers. "Self-publishing" and "writer" aren't mutually exclusive terms.

Anyone, be it an entrepreneur or a chef or a stay-at-home parent can self-publish a book, whether they identify as a writer or not. Creativity is a plus, but it's not necessary to the process; what's necessary is an idea, a driving force, if you will. There are plenty of book options for those who wish to break into the industry but aren't of the creative mindset.
Interested in self-publishing but not a writer? Self-publish a cookbook!
So maybe you're not that gifted with words, but you are gifted with exceptional culinary talent – this is the perfect opportunity to self-publish! Cookbooks are a great way to see your name in print and pass along those tasty recipes you've worked so hard to perfect. Whether you're self-publishing for commercial reasons, or you're hoping to gift your cookbook to family and friends, DiggyPOD is the place to self-publish. We offer bookstore-quality paper, including full color pages, and printing options that guarantee a beautiful representation of your delicious creations.
Children's Books
If you're more artistically-inclined toward drawing than writing, a children's book is an excellent way to self-publish. A picture is worth a thousand words, as they say. Bring your drawings to life and create a fun and memorable book that you can pass along to your children and, eventually, their children. It doesn't have to be perfect or a bestseller – your kids will love it no matter what, because it came from you. Learn more about how to bring that colorful and unique story to life.
Genealogies
Another fun (and informative!) way to break into self-publishing is by researching your own family. A genealogy, or a family history book, is not only a creative and fun way to record your family's history, it's a creative and fun way to learn more about your ancestors and bond with your living loved ones. At DiggyPOD, we offer quality genealogy printing that promises a preserved family legacy. When you self-publish, the journey is about the knowledge you're learning, not the words you've written.
Yearbooks / Other Photo-books
DiggyPOD proudly prints yearbooks, as well. Now that we're offering 80# gloss paper, your photos will look better than ever. Yearbooks, or other photobooks, are a good way to get a taste of the self-publishing world without putting too much effort or forced creativity into it. Put those photos on display and share them with your family and friends. Like a cookbook, this will have a great value in your life and the lives of your loved ones. It's less for commercial reasons, and more for sentimental value.
The bottom line? Whatever you so desire to self-publish, you can! The possibilities are endless, and you don't need to be a poet, novelist, or memoirist to self-publish. All that matters is the content is interesting and important to you. DiggyPOD makes it easy to self-publish, no matter what. We offer in-depth knowledge, tutorials, and pricing charts to assist you every step of the way. What are you waiting for?