How to Promote a Self-Published Book Online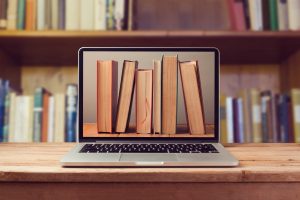 Whether you've self-published before or this is your first time, knowing how to promote a self-published book online is extremely important for selling books. If you forgo marketing—or don't put much effort in it—then selling your book will be much harder.
Thankfully, we live in the digital age. Promoting your self-published book is easier due to how reliant we are on the Internet. You have more opportunities to promote your self-published book than ever before.
Allow us to cue you in on how to promote a self-published book online.
First Thing's First: Write a Book You're Proud to Promote
Learning how to promote a self-published book online is all for naught if you don't have a book you're proud of. Your excitement for your book will be directly linked to how many people purchase your book.
The best thing about self-publishing is the freedom it allows.You're not writing to impress a literary agent or an editorial assistant halfheartedly sifting through a slush pile. You're writing the story that means the most to you.
Promoting a book is very different than writing a book, however you can take that passion and dedication and let it drive your marketing strategy.
How to Promote a Self-Published Book Online: The Basics
If you don't have marketing experience, don't worry. We're going to make it as simple as we can.
Here are the basics:
Promote your writing (this means your self-published book

and

other writing, such as a blog or stories in literary journals) on

social media

. You can do this for free, or you can opt to purchase social media ads to reach a larger audience.

Have an

author website and blog

. Make sure your website is concise, inviting, and relevant. Blog regularly to showcase your writing ability.
Let's get a little more in-depth.
Promoting Your Writing on Social Media
Social media is amazing. It provides a means of making and maintaining connections, both with people you know in real life and people you don't. You can discover new things and new communities all the while staying in touch with loved ones and family. Being a part of a writing community on social media is not only beneficial to your craft, but it can also be very lucrative.
Now, there are a two main ways you can promote your self-published book on social networking sites: paid and unpaid. Not all self-publishers have the funds to run extensive ads, and that's okay. Promoting your self-published book for free on social media is totally doable—it just requires some work.
Running Advertisements on Social Media
First, however, let's talk about paid advertisements on social media. Have you ever been scrolling through your timeline and come upon a tweet from an account you don't remember following? Then, upon further inspection, you see that it's "promoted." This is a Twitter ad. Same goes for Facebook: those ads on the side of your timeline? They're there because someone paid for them to reach you.
Social media advertising is a really great way to attract new readers. It's estimated that 2.34 billion people worldwide use some kind of social media. And the region with the highest percentage of social media use? North America. Knowing this, you can see the potential.
Obviously you're not going to reach all 2.34 billion social media users with one advertisement—that'd be crazy. However, you can reach the exact target audience for your book. Social media advertising is really advanced; you can choose what demographic sees your ads.
Facebook and Twitter Ads allow you to choose an audience based demographics. Twitter has a more limited selection (age, language and location). Facebook, on the other hand, has a lot of options: education level, age, gender, language, employment status, relationship status, etc. If you've self-published a romance novel, for example, when deciding how to promote a self-published book online, you can easily run an ad that will appear alongside female Facebook users timelines (since women make up the majority of romance readers).
You can also run ads based on interests. If you're running Facebook and Twitter advertisements, you can choose who sees your ad based on what they like. Say, for example, you've self-published a cookbook: you can target social media users who follow or "like" celebrity chefs, cooking television shows, or other cookbook authors.
Running an Instagram ad is also a good option, so long as you have high-quality photographs of your book. Since Instagram is so visual, these ads really need to pop.
After you've chosen your target audience, you need to focus on writing compelling ad copy (that is, words!). Your goal is to make your audience want to buy your book. Focus on creating a logline or tagline for your book. A logline tells you what the book is about in a quick sentence or two. A tagline is a catchphrase. Either will work when creating an appealing advertisement.
The most important part of running an advertisement on social media is this: make it easy for someone to buy the book. Include a direct link to Amazon, Barnes & Noble, or your own author website. You want the difference between seeing the ad and buying the book to be only a click away. The easier this is, the more likely someone will purchase your self-published book.
How to Promote Self-Published a Self-Published Book Online For Free
If you don't have enough wiggle room within your budget to run social media advertisements, you can still promote the book on Facebook, Twitter, and Instagram for free. Regular social media posts are perfect option when deciding how to promote a self-published book online.To do this, you'll want an author profile (something separate from your day-to-day musings).
Once you have an official author account—whether or not it's "blue check mark" official—use this as a way to share your writing widely. Use hashtags that are applicable to the writing community you're involved in. Make connections with other writers and avid readers. When your book is published, promote it by tweeting or posting frequently. Again, be sure to include a direct link to the site where your followers can purchase it.
Create an Author Website & Blog
To accompany your official author social media accounts, create an author website. You can use WordPress or Squarespace to host the site. WordPress is a great option (and free with a .wordpress.com domain). If you wish to purchase a unique domain you'll have to pay for it. Each site offers different plans and prices. WordPress is great to use if you want a highly customizable domain. Squarespace is a bit more straightforward, however, so if you aren't particularly computer-savvy, Squarespace might be the better choice.
WordPress offers the following plans:
Personal – $4 a month, billed annually.

Premium – $8 a month, billed annually.

Business – $25 a month, billed annually
Authors will benefit from either the personal or the premium plan.
Squarespace offers the following plans:
Personal – $16 a month (billed monthly) or $12 a month (billed annually).

Business – $26 a month (billed monthly) or $18 a month (billed annually).
Again, authors should opt for Squarespace's personal plan. It will have all the features they require.
Whichever host site you choose, keep in mind that blogging is going to be a very important aspect of your author website. Simply put, the more content you put out there, the better chance there is for someone to find you. Author blogs are a great way to garner attention. It can showcase your writing for those who aren't completely sold on buying your book yet. It's the perfect platform to feature snippets from books, discuss your writing process, and preview future endeavors. Blogging for authors is really about proving your credibility and getting attention from potential readers. You want your creative writing blog to be a promise to your reader; you want it to say this is the kind of content you'll get.
This is just one aspect of promotion, however it's so important that authors know how to promote a self-published book online. Since so much our purchasing habits depend on internet retailers, the internet is important marketing space. Take advantage of all the possibilities it offers. Create author profiles on social networking sites, use those to promote your book (whether you pay for it or not), and blog regularly and frequently. The first part of promotion is being visible and discoverable to readers. The second part is enticing them. The third is sealing the deal and making a sale.