Freelance Writing: How to Get Paid as a Writer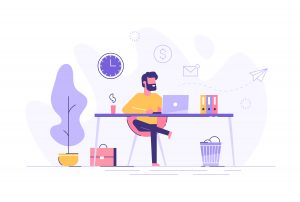 If you want to pursue a career in writing, more likely than not, you'll do some freelance writing. Writers have a lot of options when it comes to freelance writing jobs online, and if done correctly, they can turn quite a profit. Many writers find successful careers in freelance. If self-publishing a book is a dream of yours, you can support yourself by freelancing for magazines and websites while working on your book. If you've ever considered freelance writing, keep reading for more information, tips, and suggestions.
Freelance Writing Definition
If you're new to the writing world, you may be a little confused about what freelance writing actually means and entails. Who hires freelance writers? Will you be hired by a company as a full-time writer, part-time, or contract? How does it all work? What opportunities are available to you? How much money can you make? Before we get into the nitty-gritty details, let's go over what freelance writing actually means.
What is Freelance Writing?
So, what is a freelance writer? The dictionary defines a "freelancer" as, "a person who works as a writer, designer, performer, or the like, selling work or services by the hour, day, job, etc., rather than working on a regular salary basis for one employer."
An important thing to note: freelancing is not just limited to writing. It includes many different forms of creative work: design, music, editing, photography, etc. Freelance gives creatives freedom to choose what projects they do, what companies they work for, and how busy their schedules are.
As a freelance writer, you'll technically be self-employed. If a company hires you full or part time, that does not qualify you as a freelancer. A freelancer works for one or several clients at a time but always maintains self-employment status. As a freelance writer, you'll encounter many different kinds of projects, from blogging to writing longer, feature articles. You may freelance for a newspaper, a blog, a website, a magazine, etc.
But where do you start? If you've been considering freelance writing, keep reading for tips on how to break into the online job market.
Freelance Writing Jobs for Beginners
Beginning a new job can be intimidating, but you shouldn't be scared to start your freelance writing journey. So many possibilities await you. Freelance writing offers a lot of different options: from blogging, to content creation, to interviews, to think pieces, and so on. No matter your strengths and interests, you'll find a realm of freelance work that fits you.
Starting out, you'll want to build up your portfolio. Experience is the name of the game. The more writing credits you get–from reputable sites and businesses–the better. Start with smaller or local publications, places where you can get your foot in the door and create impressive content to then use to land bigger jobs. Put your best work out there and be relentless in your search.
Check out this article for beginner-friendly freelance opportunities.
How to Get Freelance Writing Jobs
To begin your freelance career, you'll first want to create a profile on sites where clients can find you. A lot of freelance database websites currently exist, such as Upwork, Fiverr, Freelancer.com, and much, much more.
Make sure your profile stands out by including the following:
The basics: your name, contact information, and areas of expertise.

Your resume.

Writing and editing samples.

Special skills that set you apart from the competition.

Base

pay

rate

.

A link to your

official author site

.
Including both samples and unique skills or qualifications are two very crucial aspects. Freelancing is a flooded market, so any way you can make yourself stand out will increase your chances of landing a client. If you have niche interests and knowledge, such as a medical, academic, or technical background, including this on your profile or resume opens you up for a wider variety of jobs.
As you apply for and get jobs, you'll build a client list. If you do an exceptional job, and the company likes your work, you'll have more opportunities available to you in the future. Freelancing is all about gaining and maintaining connections.
Building a Career on Freelance Writing Jobs
No surprise why so many writers turn to freelancing: it has a lot of freedom to offer. You get to work from home, write for a variety of outlets, and set your own schedule. Like any job, it has its drawbacks, too, but if you work hard, you can build quite a successful career out of it and make a name for yourself and your writing.
As a self-publisher especially, freelancing can support your publishing goals. Done right, it can support you as you write your books. But how much money can you really expect to make as a freelancer?
How to Make Money Freelance Writing
Not all freelance writing gigs pay the same, and not all pay well. When you first start out, you may not make much per post or per word, but the more writing credits you gain and the more bylines you have to point to, you'll see an increase in how much you make and how much you can charge per article or word.
Freelancer Elna Cain recommends multiple income streams. She tells freelancers to run advertisements on their blog, find a high paying, niche market (such as parenting blogs), build up their portfolio, among other helpful tips.
Ultimately, making money as a freelancer ends up being pretty similar to making money as a self-publisher. For both, you must:
Write well

Create an author blog or website

Market yourself and your writing

Have a social media presence

Put yourself out there (by applying for writing gigs, sharing your work, etc.)
Contracts for Freelance Writers
In our last blog, we discussed ghostwriting, another popular income stream for writers. Ghostwriting and freelance writing are similar in a few ways, including that they both include a contract of some sort.
A contract ensures that both parties get exactly what they're looking for: the company, or
client, gets the specified piece of writing, and the freelancer receives their due payment on an aforementioned date.
Like a ghostwriting contract, we recommend any contract you sign include the following pertinent information:
A description of the project and the freelancer's role within that.

A description of expected duties and responsibilities for both parties.

Pay information, including total payment and a schedule, if client is paying in increments.

Project due date, including due dates of any drafts.

Copyright ownership.

Confidentiality.
Each project will mean another contract. Be sure to stay vigilant when reading and signing one. Always make sure the terms are clearly defined so that you don't end up in a stalemate with the client, waiting to get paid for your valuable time and effort.
Hopefully by now you know what a freelancer is and does, and what freelance writing means for you. Do you have any other tips or trade secrets that aspiring freelancers should know? Let us know in the comments!