How to Create a Blog and Author Website to Build Your Audience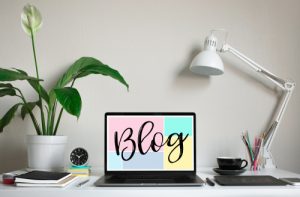 So far in this blog series, we've discussed what audience development is and how to use social media to achieve it. In this blog, we'll discuss why authors should create a blog and an official author website to provide a central hub for everything they write and publish. Even if you aren't particularly technologically savvy, you can create a blog and website.
The Benefits of an Official Author Website
Every writer should have a website. All of our tips concerning building and maintaining an audience can really be distilled to one, common theme: create an author brand. Your brand is, essentially, what you offer as a writer. This goes beyond self-published books. How you present yourself, interact with others, and what you offer all go into the making of your author brand.
A website gathers all aspects of your brand and puts them all together in one place. A website is a great place to promote your book, link to where readers can buy it, and promote additional work: freelance articles, online poetry or short stories, or, as we'll discuss below, blog posts.
How to Create a Website
Creating a website isn't too difficult, and even those without much tech experience can do it. It will take time, of course, but will be worth it in the end. Kind of like writing a book.
There are different host sites you could use, such as Wix, WordPress, Squarespace, Weebly, and more. In this blog, we'll specifically look at Squarespace and WordPress.
WordPress is a great option (and free with a .wordpress.com domain). If you wish to purchase a unique domain you'll have to pay for it. Each site offers different plans and prices. WordPress is great to use if you want a highly customizable domain. Squarespace is a bit more straightforward, however, so if you aren't particularly computer-savvy, Squarespace might be the better choice.
WordPress offers the following plans:
Personal – $4 a month, billed annually.

Premium – $8 a month, billed annually.

Business – $25 a month, billed annually
Authors will benefit from either the personal or the premium plan.
Squarespace offers the following plans:
Personal – $16 a month (billed monthly) or $12 a month (billed annually).

Business – $26 a month (billed monthly) or $18 a month (billed annually).
We recommend the personal account. With this type of account, as with the WordPress account options above, you can create pages, link your social media sites, and write blogs. Here are few ideas for pages:
An "About the Author" section.

Online publications.

Awards or honors received.

A contact page. (Say, for instance, an editor or publisher saw an article or short story you published and loved your work. A website with a contact page makes you easy to reach out to for solicitations.)

Different pages for each book you self-publish. On these pages you should include a direct link to where readers can purchase the book, and you could also include blurbs, positive reviews, or even book excerpts. It should be very clear and easy for visitors to go from viewing your author website to purchasing your book.
How to Create a Blog
There's a blog for everything these days. Parenting blogs. Health and wellness blogs. Book blogs. You name it, there's probably a blog for it. With how easy it is to get started, everyone can create a blog.
One common thread in every (good) blog? Good writing.
Each and every writer should create a blog. It will help you increase your book sales. The more content you're putting online, the easier you are for potential readers to discover. Also, as of 2017, 47% of buyers read at least 3-5 pieces of content about a produce before purchasing it. People like to know what they're buying, and featuring your writing on your official author website provides them with an example of what your book will be like.
Whatever platform you choose, there will be a blog page option, where you can write posts, schedule them, post, and link to social media, email newsletters, etc.
When first creating your blog, ask yourself these questions:
What do I want to say?

What do I want it to look like?

What central theme will tie my posts together?

How often will I post?
Blogging isn't an online version of your journal. For your blog to be successful and draw in readers, it'll need to be creative, unique, and organized; it will need to offer something to the reader; and, most importantly, it will need to be discoverable on the search engine results pages such as Google, Bing and Yahoo.
Create a Blog to Build Your Audience
To put it simply: the more content you put out there, the more likely someone is to discover you, your blog, your website, and your self-published book(s).
Your blog can offer what your social media and self-published books can't: an in-depth look into your creative process, snippets of other projects you're working on, writing tips, interviews, book reviews, etc. Readers of your book can follow your blog and get to know you, in a sense. This will make them feel closer to you and more likely to purchase future books you self-publish.
All of your online work and author branding should lead to one, desirable outcome: a dedicated audience of readers who purchase your self-published books. Where would writers be without readers? Your readers are a crucial part of the equation. Making strides to connect with them will increase your sales.