How to Promote and Distribute Self-Published Books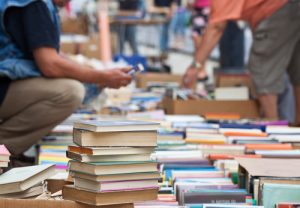 Our latest blog series has explored book distribution. So many authors think the hard work stops after they've written the book. When you self-publish (or even if you publish with a traditional publishing house), an author's work is never really done.
Your book sales will depend entirely not only on how you promote your book, but also on how you distribute them (online vs. offline).
Book Promotion and Book Distribution
Authors should ask themselves the following questions when deciding how to promote and distribute self-published books:
Do I want to pay to promote my book?

Do I have official author social media profiles as well as an author website?

Do I want to sell online? Which retailers will I be using?

Do I want to sell in stores? Will I benefit from preparing an author signing?
Answering these questions will give you a good base to start from. You can always change your book distribution plan, but going into promotion and distribution with any plan will provide you a stronger foothold.
Promoting Your Book Online: Social Media
Before book distribution, there's book promotion. There are two main ways you can promote your self-published book using social media: by posting regularly or using social media advertisements.  
If you want to promote your book without paying for it:
Create an official author profile.

Post

a lot

and

often

about your book.

Connect with other writers and readers.

Use hashtags.

Include a direct link in your posts.
If you want to promote your book by using social media advertisements:
Use Facebook and Twitter ads to target readers based on demographics (age, language, location, education level, gender, employment status).

Or, you can use Facebook and Twitter ads to target readers based on interests.

Use Instagram ads only when you have high-resolution, beautiful images to accompany the ad.

Always include a direct link to Amazon, Barnes & Noble, or your own author website – wherever readers can buy your book. Make the difference between

seeing the ad

and

buying the book

a mere

click

.
Promoting Your Book Online: Author Website & Blog
To go along with your official author social media accounts, you'll need an author website. You can use WordPress or Squarespace to host the site. Both are great options. With WordPress, you have the ability to create a site for free by using a ".wordpress.com" domain. Both host sites also offer unique domain options for a subscription fee.
Both of these options allow users to blog. Take advantage of having an author blog. This gives you space to feature snippets from books, discuss your writing process, and preview future endeavors. Blogging for authors is really about proving your credibility and getting attention from potential readers. The more (good) content you put out there, the more discoverable you are.
Learn more about promoting your self-published book online.
Selling Your Self-Published Book Online: Amazon, Barnes and Noble, and Bookblues
Once the digital marketing is over, book distribution begins. Selling your book online is a reliable and easy option. Self-published authors have tons of online book distribution markets to choose from. For the sake of this blog, we're focusing specifically on Amazon, Barnes and Noble, and Bookblues.
Amazon
As an author, you have a few different options when selling through Amazon. There's Selling on Amazon, Selling on Amazon + Fulfillment by Amazon, or Amazon Advantage.
Selling on Amazon: This is the simplest option. You create a Seller Account and manage all of the storage, packaging and shipping. Amazon offers two different Seller Accounts.
Individual Account:

You pay a $0.99 fee per item you sell.

Professional Account:

You'll pay $39.95/month subscription fee. You won't pay a fee per item you sell.
Selling on Amazon + Fulfillment by Amazon: This option is similar to the option above, however Amazon handles the packaging and shipping. For a separate fee, you can store your books in an Amazon warehouse, where Amazon workers will package and ship orders for you. The books will be listed as sold by you, not by Amazon.
Amazon Advantage: Amazon Advantage works like a consignment store: your book will appear as sold by Amazon, not you; Amazon will handle all of the storage, packaging, and shipping (at no extra cost to you); you don't need a selling account; order can be combined with other Amazon orders, Prime eligible, etc.
Barnes and Noble
To sell your book on Barnes and Noble's website, you must complete and submit the Publisher/Author Application for Book Placement Consideration. This form will require you fill in information such as the ISBN, Title, other wholesalers or distributors you have deals with, and vendor information. Once submitted, the decision process takes about three months.
Unlike with Amazon, this decision ultimately rests entirely with the company.
Bookblues
Bookblues was created by DiggyPOD out of the notion that self-publishers should keep 100% of their profits. We don't take a cut of your sales. You'll pay a monthly listing fee, but that's it.
Selling your self-published book on Bookblues isn't just profitable – it's easy, too! All you need to do to set up your Bookblues is create a seller account and a PayPal account.
Learn more about the advantages of Bookblues.
Promoting Your Book Offline: Book Signings and Author Events
Promoting your book shouldn't be solely done online. One really exciting and special aspect of being an author is planning author events, such as readings and book signings. Author events are as important for new authors as they are for established authors. Book signings and other meet-and-greet events make fans feel a deeper and more personal connection to the author of the book they're reading.
Here's how to set up and do a book signing or other author event:
Decide where you will hold your event. A bookstore? A community center? A coffee shop?

Reach out to the events manager at that location.

Be prepared to pitch your book and event. Convince the location that this event is beneficial to them.

Promote the event online.

Select a passage to read. Be sure it makes those in attendance want to know more (i.e., don't give everything away!).

Have a system in place to ensure the signing goes smoothly.
Offline Book Distribution: Selling Your Book in Bookstores
Don't limit yourself to selling online. It's possible for self-publishers to sell in stores. Here's how:
Figure out

how

the store buys their books. Do they use a wholesaler? A distributor? Do they buy on consignment?

Understand your particular market. This means doing research into your genre. What are the popular titles? How much do these books typically sell for? What do they readers of this genre want?

Be prepared to market your book extensively. Bookstores aren't going to buy and shelve a book unless they know it's going to make them money. Prove that your book will sell.

Contact the store's book buyer with your official request and marketing materials.
Learn more about how to successfully sell more books in bookstores.
All of this may seem overwhelming, but in each blog we've broken it down step-by-step so that self-publishers can promote and distribute their book to avid readers and fans.