Write On: How Using Writing Prompts Can Keep You Active Over the Summer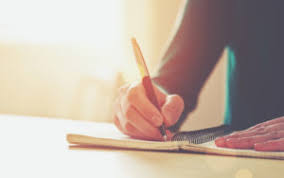 Summer is here! It's finally warm out, and the pool/beach/lake is beckoning. The next three months promise suntans, sunburns, and, if you're anything like me, laziness. Don't fall behind in your writing just because warmer days are upon us: start using writing prompts! Writing prompts are a superb way to exercise those writing muscles and stay on top of your craft. They're fun, easy, and effective!
What are writing prompts?
Writing prompts simply push you in the direction of a story. They'll give you a theme, a situation, a character, or a piece of dialogue to inspire you, and then the rest is up to you to fill in. For example, a writing prompt might say, "Write a story in which a brother steals a toy from his sister." Then, you'll have to decide what toy the brother steals, why he steals it, how the sister reacts, and if the parents get involved. Or, the prompt could say something as vague as, "Write a story that takes place during a lunar eclipse." All aspects of the story from there are up to your brain to decide. Think of it like a fill in the blank story!
Who uses writing prompts?
Anyone and everyone! Writing, like anything, is a skill. To maintain that skill, you need to practice. You can't just sit down and expect to write a novel on your first try! You need to hone that skill, cultivate it, and let it grow. Art is tricky, but writing prompts are an excellent way to achieve growth. And who knows? Maybe what starts out as a fun exercise could turn into your next self-published novel.
There are tons of prompts out there, and they aren't just for the beginner or for children in school. Writing prompts aren't for writers who can't think of their own topics, either. That's just ridiculous! They're for anyone. Poets & Writers, an esteemed site for serious creatives, posts weekly writing prompts for adults.
Not all writing needs to be serious. Sometimes it's a great break to just sit back, relax, and write about something someone else has decided for you. Allow yourself to have some fun in your writing!
Will writing prompts really help you self-publish a book?
Anything that keeps you actively writing, that keeps you going back to that Word document, notebook, or typewriter (kudos if you actually work with a typewriter), can help you self-publish a book! In this day and age, there are so many things that distract us: work, family, friends, Netflix, the Internet… the list goes on and on. A good writing prompt can allow for a small reprieve from the madness. Sometimes they may seem silly, but silliness in writing is okay! Plus, you never know when a silly prompt could turn into a full-length book!
What are some of your favorite writing prompt generators out there? Comment below and share!