Writing A Book 101: How to Create Character Development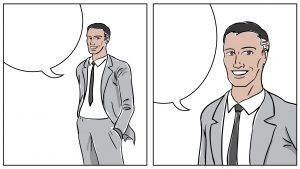 Writing a book comes with a multitude of learning opportunities. You may think you know all there is to writing a book—you just write whatever you want, obviously—but there are many tiny facets of novel, memoir, and poetry writing that you must pay close attention to. One of these is character development. Characters are integral to any kind of writing. A lot of books, in fact, focus more on character development than plot. The characters, in a sense, become the plot. Whether or not your book is plot-focused or character-driven, you'll need to invest some time into making sure your characters are three dimensional, complex, and, creatures of change.

When writing a book, and creating character development, mimic real life.
It doesn't matter if you're writing a book about life on a farm in Kentucky or the life of an alien on a faraway planet—you'll need to draw from real life to create believable characters and believable interactions. The way people talk, the way they act, what they care about: you can use these to mold your characters. When you first begin, we recommend creating what's called a character sketch, essentially a list of every possible thing there is to know about your character. What's their middle name? What's the color of their hair/eyes? What's their deepest fear? How do they react in tense situations? What's their favorite smell/color/memory/movie/book/etc.?
Allow your characters to change. Your book depends on it.
Nobody stays stagnant. We're in a constant state of change, every day. Your characters must be the same. Realistic stories depend upon character development. If your protagonist is exactly the same in the beginning and the end, then you're in serious need of revision. There are steps to writing a book, and one of those steps is creating a plot; with the changes in plot, so too must there be changes in your characters. The people within your book will obviously be affected by plot changes or twists. Therefore, it's only logical that some of those effects will inspire real, fundamental changes to their personality, worldview, or emotions. Whether your book is in print or your aim is to write a book online, you can't forgo character development. It would be a disservice to your book.
Don't be afraid if the development isn't "good."
Sometimes, our characters will change for the worse. You can't expect everything to make them a better person. Bad or negative things will happen to these characters, and they may become vastly different from the character you initially created—and not for the better. This is okay. Refer back to point one: you need to mimic real life. Not every experience is going to be a positive one, so every change won't be a positive one.
In the end, one of the main things you need to know about how to write a fictional book is how to make it as real as possible (seems like an oxymoron, doesn't it?). Bring your characters to life, and your story will flourish. Writing a book takes extraordinary attention to detail. Don't skimp on the details of your characters. For more tips on how to create realistic, lifelike characters, check out The Write Practice, an online writing prompt resource to keep writers active in their craft.