What are the Different Types of Poetry?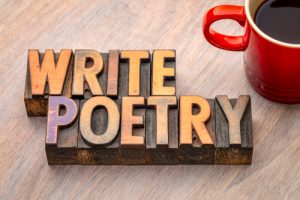 Did you know? April is National Poetry Month! You don't need to be a poet to enjoy reading poetry. Poetry offers something for everyone: strength, encouragement, reflection, peace. April is an entire month specially dedicated to reading, writing, and appreciating poetry in all its forms. We think this is a practice readers and writers should carry with themselves throughout the entire calendar year. If you don't know much about poetry, and don't know where to start, don't worry! In this blog, we'll answer questions such as what are the different types of poetry as well as give you recommendations on where to start your reading.
Not all poems are the same. Poetry is diverse; each poet, unique. Just like fiction has genres that dictate topic and themes, so, too, do different forms of poetry call for varying rhyme schemes, amount of stanzas, meter, themes, etc. Not all poems rhyme. Not all poems have discernible stanzas. Some poems tell stories—complete with plot, characters, and dialogue. Other poems are rooted heavily in song, with set rhyme patterns, while others are completely free, each decision made entirely up to the poet. Some find their meaning in their physical shape.
What are the Different Types of Poetry?
Acrostic: In an acrostic poem, certain letters—usually the first letter of each stanza—spell out a word. For an example of an acrostic poem, click

here

.

Ballad: Historically rooted in song, ballads follow a set rhyme scheme in quatrains. Ballads tell stories. For an example of a ballad, click

here

.

Couplet: This type of poetry is more of a literary device. A couplet is two successive lines that rhyme and have the same meter. A couplet can stand on its own or, more commonly, can be a part of a larger poem. For an example of a couplet, pay attention to the two concluding lines of this

poem

.

Epic: A type of narrative poem, an epic spotlights themes of heroism and adventure and are often book-length. An example of an epic poem is Homer's

Odyssey.

Free verse: Free verse follows no rhyme scheme or regular meter. Read

Winter Poem

by Nikki Giovanni to see an example of a free verse poem.

Haiku: A traditional Japanese poem, a haiku is most often taught as consisting of 3 lines of five, seven, and five syllables. Read this

example of a haiku

.

Narrative: A narrative poem tells a story. It has a discernible plot. It does not need to rhyme.

The Canterbury Tales

by Geoffrey Chaucer is an example of a narrative poem.

Ode: An ode is written in praise of something or someone. The number of stanzas, rhythm, and rhyme will vary. To see an example of an ode, read

To Autumn

by John Keats

.

Sonnet: A sonnet is a poem that has fourteen lines—three quatrains and a couplet. Shakespeare wrote

a lot

of sonnets. You may recognize this

popular sonnet

.
For more types of poetry, visit this page.
Poetry Recommendations
Now that we've answered what are the different types of poetry?, you may be wondering where to even begin reading. We firmly believe that everyone—writer or not—should read poetry. Kids especially should read poetry, as reading aloud and reciting poems can help build language fluency, cadence, rhythm, and confidence (but, more about this later). Above all, poetry provides
If you're looking to get into poetry, or you just need something new to read, here are some poets to start with:
Edgar Allan Poe:

We recommend starting with Poe because his work is easy to follow along and understand, and—better yet—it's entertaining. Try two of our favorites:

The Raven

and

Annabel Lee

.

Mary Oliver

: Oliver, a Pulitzer and National Book Award winner, believed poetry should be accessible. She loved to write about life and nature. You can't go wrong with any of Oliver's books. We particularly love

A Thousand Mornings

.

Maya Angelou

: Maya Angelou was, hands down, one of the best, and if you've never read her work, you should rectify that ASAP.

Awarded over 50 honorary degrees, winner of countless awards, Maya Angelou is a legend.
DiggyPOD Proudly Prints Poetry Collections
If you've written a poetry collection that you want to self-publish, look no further! DiggyPOD prints beautiful poetry collections and chapbooks. The go-to resource for writers interested in self-publishing poetry, DiggyPOD prints more than 100,000 books a month, perfectly customized to fit each writer's unique vision. We offer paperback, hardcover, and coil-bound binding, in addition to several paper options, so you get exactly what you've been envisioning. Above all, we understand that a book is a work of art and that every detail — from the cover to the paper weight, the images to the binding—matters. When you choose DiggyPOD for self-publishing poetry and chapbook printing, your vision comes to life exactly as you want it to.
We hope that this blog helped answer what are the different types of poetry and maybe inspired you to write some of your own. From ballads to odes, sonnets to acrostics, you can count on us for all of your poetry self-publishing needs!
We'll be celebrating poetry all month long, but you shouldn't stop there. Celebrate poetry all year long by reading and writing poetry of your own. Who knows, maybe some day you'll self-publish poems of your own! We'll be there when you do.
Do you have a favorite type of poem? Let us know in the comments!