Self-Publishing Nonfiction: What is the Difference Between Memoir, Biography, and Autobiography?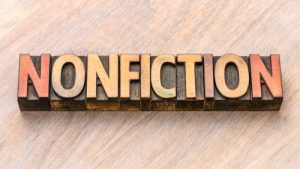 When people think about publishing a book, they usually think about novels, i.e. fiction books—with genres such as mystery, romance, fantasy, historical, or science fiction—however a large percentage of bestsellers are in fact nonfiction books. Nonfiction, like fiction, covers a wide array of subjects and book types. What unites all nonfiction books is that they're true stories. Fiction is made-up, purely the product of an author's imagination (though influenced by real life). Nonfiction, therefore, is not made up. Let's look at what types of nonfiction books there are.
Types of Nonfiction Books
Nonfiction books appeal to everyone. No matter your interests, you'll be able to find a subject that fits your taste. Just like fiction, nonfiction, too, has a lot of different genres to choose from.
Examples of popular nonfiction genres:
Memoir

Autobiography

Biography

Cultural Criticism/Responses

History/Law/Political

True Crime/Investigative

Humor

Scientific

Religious

Cookbooks

Self-help/Motivational

Coloring Books
Out of these types of nonfiction books, people often mix up memoir, autobiography, and biography. Why do they mix them up, though? Keep reading!
What is a Memoir?
Defining a memoir can be tricky. It can take a lot of shapes, and different authors will have different approaches when writing one. derived from the French word for "memory," memoirs find roots in memory.
Differentiating between a memoir and an autobiography can be a bit tricky. Memoirs and autobiographies are often mixed up, and it's not surprising why: both are about the life of the author. However, the main difference between the two is that memoirs do not span the entire life of the author. Usually connected by some sort of unifying theme, idea, or incident, memoirs tell stories and lessons learned from the author's life without covering everything that happened from the writer's birth until old age.
Some common themes you'll encounter when reading memoirs:
Strength and overcoming obstacles

The power of faith/religion in the author's life

Humor

Friendship and love

Identity
What is an Autobiography?
We've already covered that a memoir is comprised of stories or experiences from the life of the author that are tied together with an overarching theme or idea. An autobiography, however, usually tells the author's life story, whether there's a unifying theme or not.
Autobiographies are chronological, too. While memoirs can bounce around in time, autobiographies follow a strict timeline.
The terms autobiography and memoir are used so interchangeably that they've begun to lose distinction. Calling a book an autobiography when it is actually a memoir isn't, at the end of the day, wrong. Memoirs are autobiographical. However, the next nonfiction genre we're discussing cannot and should not be used interchangeably with these terms.
What is a Biography?
A biography is not the same thing as an autobiography, despite how often people attempt to use the terms interchangeably. They're two entirely different genres, and the distinction is made in who is writing the story.
While an autobiography is a true story about the author's own life, a biography is the story of an influential figure's life written by another person. Most biographies are about well-known or famous influential figures. Popular biographies are written about presidents, movie stars, rock stars, political leaders, revolutionaries, etc.
What About Ghostwriters?
The whole autobiography/memoir vs. biography distinction gets a little hazy when a ghostwriter is involved. A ghostwriter is someone who is tasked with writing a book (or article or speech) while credit is given to another. Not just limited to nonfiction books, ghostwriters can help with any genre of writing. Many celebrities and other public figures use ghostwriters when publishing their autobiographies and memoirs, if they feel their writing isn't strong enough but they nonetheless have a story to tell.
Ghostwriters do the actual writing, but they don't get credit. Ghostwriters assist with the craft. Writing a book is hard, and not everyone can do it, even though many feel they have a story to tell. Despite the author not writing the book themselves (or writing it with assistance), they are the author, so the book would be considered an autobiography or memoir.
You may be asking yourself why anyone would want to ghostwrite a book if they do not receive credit for the work. The reason behind each ghostwriter's decision to accept the job will vary. For some, the pay rate makes ghostwriting worthwhile. For others, it may be because of their relationship with the author.
Self-Publishing Nonfiction Books
At DiggyPOD, we print all types of nonfiction books. From cookbooks to memoirs, our multiple binding options, paper types, and cover styles make your nonfiction book endlessly customizable. You can self-publish any of the above types of nonfiction books with DiggyPOD. Our Print on Demand technology transforms your book from a PDF file on your computer to a beautiful book. You'll be proud to sell, gift, or display that book on your bookshelf for all to see.
Our spiral bound printing is perfect for all types of nonfiction books that need to lay flat when open. This includes coloring books, cookbooks, and training manuals.
DiggyPOD's paperback and hardcover binding styles make nonfiction books look beautiful. Perfect for any and all genres, check out our paperback and hardcover book printing.
Whatever your project, no matter the genre, DiggyPOD prints beautiful books. You'll be so happy with the final product. Everything from paper type to margin size to cover design is entirely up to you, the author.