Press Release – Mitabook Hardcover Casing-In Machine
Tecumseh, Mi: DiggyPOD Purchases Mitabook Hardcover Casing-In Machine
The recent purchase, part of a $500,000 investment, broadens DiggyPOD's available binding options and cuts down on waste.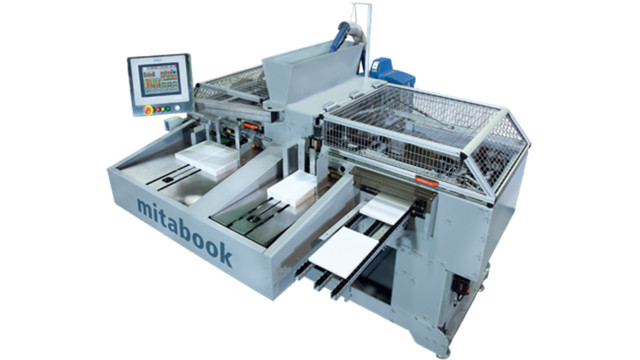 Tecumseh, MI: DiggyPOD, an industry-leading digital book Print on Demand and Self-Publishing Company in southeast Michigan, has begun to offer hardcover printing after their recent purchase of the Mitabook Hardcover Casing-In binder. The Mitabook, will allow DiggyPOD to print bookstore-quality hardcover books.
The Mitabook produces hardcover books in small quantities to cut down on waste. It's perfect for fiction novels, children's books, photobooks, yearbooks, and more. Because the Mitabook does not use a wing, the final product is much cleaner and without scratch marks on the inside images. It's also simple to operate—it takes up minimal floor space and can be operated by just one person.
Other benefits of the Mitabook include:
• State-of-the-art software and adhesive technology
• Fully automatic motorized size change via a touch screen
• Book block that can be placed onto wing without being split
• Gluing station that doesn't need to be cleaned
The introduction and use of the Mitabook will not only improve sales, but it
will also broaden the range of available printing options at DiggyPOD. DiggyPOD now offers paperback binding, spiral binding, and hardcover binding. Hardcover books are incredibly popular, not only for their aesthetics, but also for their durability. Hardcover books sell for more money as well, which can be a considerable benefit for self-published authors who wish to sell their books on online platforms.
Tim Simpson, President of DiggyPOD, says of the recent acquisition, "This new Mitabook in-casing machine will not only improve the speed of producing hardcover books, but it will improve the quality of the finished book. Our customers will be able to know that their hardcover books are using one of the most advanced casing-in machines on the market today, which in turn will make their books stand out from other case bound books on bookstore shelves."
About DiggyPOD: DiggyPOD is a privately owned company that prints books on demand for self-published authors. DiggyPOD was founded in 2001. DiggyPOD publishes over 100,000 books per month, and in 2014 DiggyPOD was included on Forbes' Inc. 5000 List of the Fastest Growing Private Companies in America.