Great American Novels: What are they? Who writes them?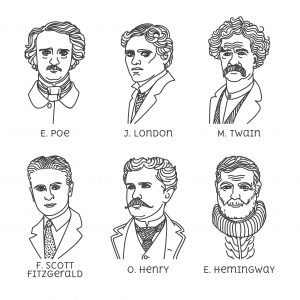 If you're a lifelong reader, chances are you've encountered something defined as the "great American novel." But what does that mean? The great American novel is a novel of literary merit, and it shows a snapshot of what America was like during that moment in time. Books like To Kill a Mockingbird and Huckleberry Finn are perfect examples of the great American novel. In today's article, in celebration of Independence Day, we'll be looking at a few great American novels and discussing what makes them great and what makes them American.
A great American novel must be just that – great and American
The great American novel definition mandates that the novel must be great and inherently American. These are books that will most likely become a part of the Western canon (collection of books/art that are considered important and influential in Western history). They must epitomize an age in American history. They must freeze a moment of time, allowing readers to delve into American history and culture. The story doesn't need to be specifically about American culture or America, but it must showcase it in some way or form.
Take, for example, On the Road by Jack Kerouac. The story follows Sal Paradise as he journeys across the country and back, following his vagabond friend Dean Moriarty. At its core, the novel is about writing and the lives of the beat poets. Based on Kerouac and his friends, it's thoroughly Americana, detailing the age of jazz and beat poets. The story isn't necessarily about America, but rather about a group of people living within America at a specific time; a group of people that would become quintessential 1950s, beat generation American.
The author need not be American – but the story must be
One of the best American novels of the 21st century, American Gods, is written by renowned author Neil Gaiman, who is not American. Gaiman is British, born in Portchester, U.K. However, several of his works are considered great American novels. Gaiman has lived in America for some time now, and his work reflects this. American Gods is about the tension between the gods of the old world and the gods of the new world and is set in America. This and Gaiman's literary skills have made it a great American novel, through and through.
Another 21st century contender is Chimamanda Ngozi Adichie, author of Americanah. Adichie is Nigerian, and Americanah is set in both Lagos, Nigeria and New Jersey. It tells a new story of America: it tells the story of an immigrant adjusting to American life. Americanah is a refreshing take on the great American novel, one that gives voice to a marginalized group, but is wholly American nevertheless.
The great American novels of the future
As time progresses, and culture changes, great American novels will change with it. The stories and voices will become more diverse, telling all types of American stories, not just stories by white authors or male authors. The canon will expand, and a more complete picture of American life will be on display. Authors like Chimamanda Ngozi Adichie exemplify this shift. 
Emily Temple, associate editor at Lit Hub, said of novels like Adichie's (one's that could be called a great American novel):
Surely all of [these novels] give the reader a "picture of the ordinary emotions and manners of American existence"—all depending on what your idea of "ordinary" is, of course. But maybe the fact that there is no ordinary in this country is exactly why the [great American novel] continues to elude, perplex, and enchant the American writer.
Other noteworthy great American novels:
Slaughterhouse 5

, by Kurt Vonnegut

Beloved

, by Toni Morrison

The Sun Also Rises

, by Ernest Hemingway

The Bell Jar

, by Sylvia Plath

Little Women

, by

Louisa May Alcott

The Brief and Wondrous Life of Oscar Wao

, by Junot Díaz

The Great Gatsby

, by F. Scott Fitzgerald
For more examples, view this post of the 100 greatest American novels of all time.