How Writing Workshops Improve Your Craft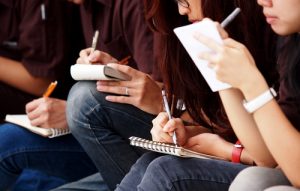 Writing is a skill like any other: some have a natural affinity for it, where it feels as natural as breathing; others may need to work a little harder to produce work. Every writer, though, must practice, refine, and strengthen their craft through thoughtful exercises, activities, group discussion, and prompts. Think of your brain—and more specifically, your creativity—as a muscle: to reach your full creative potential, you must exercise that muscle. Among other ways to improve your craft, creative writing workshops push you to new heights while offering insightful feedback, helpful suggestions, and gentle criticism.
What are Creative Writing Workshops?
If you're new to the whole "writing thing," don't worry: one of our goals at DiggyPOD is to provide extensive information about all things writing. This includes pre-publication work. We may be a printer, but we know a thing or two about the writing process.
Creative writing workshops are groups or classes that meet up for the purpose of improving one another's writing through dialogue. A workshop forces students to do the most beneficial thing for growth: write. Students in creative writing workshops will write a lot. The purpose is to nurture the craft. By immersing themselves in writing, students will develop writing habits that will benefit them for years to come.
Usually, within a workshop, there is a teacher or leader; this person will likely have more experience than their students. Their purpose is to lead the workshop, to provide tips and instructions for the betterment of their students' writing. This includes asking questions and guide the workshop discussion.
The students, then, are expected to share their writing and respond to others' writing. The students give feedback: they ask questions, make observations, suggest edits, and clarify the language used within the story, poem, or essay.
Who Attends Creative Writing Workshops?
In short: anyone can attend creative writing workshops! Whether you're an experience writer or a novice, or you're interested in becoming a writer, you can attend a workshop yourself and witness how it improves and strengthens your work. Attendees all have one thing in common: they love the written word.
Popular Workshops
The following are just a few popular creative writing workshops:
The Kenyon Review Writers Workshop:

The Kenyon Review

is both a print and online literary journal, and it offers educational programs as well as a thriving literary community. The Kenyon Review offers week-long summer workshops (in fiction, nonfiction, poetry, and spiritual writing) on the Kenyon College campus in Gambier, Ohio. The workshops meet for three hours in the morning, and students can use the remaining time to write, reflect, and explore. To learn more about The Kenyon Review Writers Workshop, visit

this page

.

Tin House Writers Workshops.

Tin House, another literary great, offers a wide array of summer and winter writers workshops lead by well-known authors. Students can apply for workshops for short fiction, novels, nonfiction, poetry, and graphic narratives. The Tin House workshop runs for a week. The summer workshop takes place at Reed College in Portland, Oregon. The mornings are reserved for workshop, and the evenings will see a host of readings and other events. To learn more about the Summer 2019 Workshop, visit

this page

.

Bread Loaf Writing Conference:

Bread Loaf Writing Conference takes place over the course of ten days at the Middlebury College Bread Loaf campus in Ripton, Vermont. The conference offers workshops in fiction, nonfiction, and poetry. Attendees have the opportunity to meet with editors and literary agents throughout the duration of the conference. To learn more about the Bread Loaf Writing Conference, visit

this page

.
Online Writing Workshops
We understand that it may not be feasible for all writers to attend weeklong creative writing workshops that, in addition to missing work or school for a week, also charge tuition, room, board, and travel fees. Online writing workshops are a great option for these writers.
Writer's Digest University:

Writer's Digest

, which is a great tool and resource for writers, offers online workshops for writers of all genres and disciplines. There are workshops in fiction, nonfiction, freelance/copywriting, genre/specialty writing, short story/essay, screenwriting, and

more

.

Catapult: Catapult offers a wide array of classes, workshops, and bootcamps. In their multi-week online creative writing workshops, students can expect to have their work read and workshopped at least twice. To learn more about what Catapult offers, visit

this page

.

Gotham Writing Classes and Workshops:

Gotham is good for emerging or aspiring writers. They offer both online and in person workshops and classes, and they emphasize the teaching aspect.
If the tuition rates for these creative writing workshops are too high, there are free classes that are great options.
What to Expect
Workshops aren't going to be easy. They're going to push you, creatively and emotionally, to produce the highest quality work you possible can. Once you produce that work, you must share it with others, which can be terrifying as a writer. When your work is workshopped (meaning, when the other students in the class discuss their thoughts on your piece, be it a poem or short story or something else), you may feel vulnerable. Listening to suggested edits or pieces of the work that other students believe should be changed or tweaked can be difficult. You've worked hard on this piece and even though, rationally, you know that the edits are necessary, it can still be strange or difficult to hear.
After your piece is workshopped, you'll be able to incorporate whatever edits that you think will make the piece better. Not all of your classmates' suggestions and notes need to be followed. These are, at the end of the day, suggestions.
When it's not your turn to be workshopped, you'll be responsible for reading your classmates' work and providing thoughtful and helpful feedback and edits, as well as participate in class discussions.
In the next blog, we'll discuss writing retreats.