A Book Trailer is a Unique Way to Promote Your Book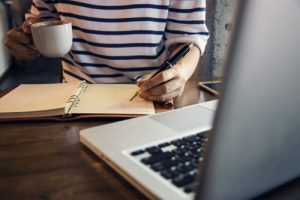 In our latest blog series, we've been exploring unique ways to promote self-published work: book clubs, book reviews, and, now, book trailers. DiggyPOD recommends marketing your book in traditional ways (advertisements, social media promotion, etc.), but it's worth exploring other, lesser utilized avenues. As a writer, use your creativity when promoting your self-published book: create a book trailer.
The concept of a book trailer may be foreign to you, but other trailers—for movies or television shows—shouldn't be. Apply the same idea to your book, and you have a book trailer!
What is a Book Trailer?
Videos are immensely popular, and they're only getting more and more viewers. YouTube, Facebook Live, Instagram Live—you name it, people are watching it. That's because videos are an entertaining way to be both visual and informational.
The stats speak volumes:
82% of people on Twitter watch videos

45% of people watch over an hour of videos online each week

YouTube has over a billion users (and more than 500 million hours of videos are watched on YouTube

every day

)
Seeing these statistics, you can see why authors would want to create a book trailer. The online video market is incredibly lucrative. In fact, if you use video, your revenue will grow 49% faster than those who don't use video.
A book trailer is a short, promotional video that teases what your book is about, provides the release date and order information, and, of course, entices viewers to purchase the book. This short video is released prior to the publishing of your self-published book, that way readers can know about it ahead of the publication date.
Similar to how movie trailers create excitement for a soon-to-be-released movie, so too do book trailers. This unique way to promote your book offers viewers a teaser of what's to come. In addition to video, trailers often include images, quotes or short passages from the book, blurbs from other authors, positive reviews, etc.
How to Make a Book Trailer
You don't need to be a director or film expert to make a book trailer. Anyone can do it. Like any other creative work (like writing a book), it just takes time, creativity, and patience. You aren't going to create a book trailer in ten minutes.
Write a script.
Always start with the script of your book trailer before deciding any other factors, because the script will influence every other decision you make.
The script should be similar to what you'd put on the back cover of your book, but condensed. Think of it as a teaser for what's to come in the rest of your book: give the viewers a taste of characters, themes, and plot, but just enough so that they're dying to find out what happens.
Select images and video.
The images and video snippets you used within the trailer are going to have to align with the text you've written, so choose corresponding graphics. You have a couple options, when choosing the visuals for your book trailer: you can use your own materials—pictures and videos you've taken—or you can use stock images. Either one will work, so long as the images and video snippets you choose correspond with the text you've written for the video as well as fits your book's synopsis.
If you've written a romance novel, choose images that convey this: of people embracing one another or of candles, roses, etc. If you've written a crime novel, use corresponding images, such as police lights swirling, crime scene tape, magnifying glasses, etc. Think of what you're trying to say with your book and find images that fit within this vision and provide a cohesive understanding of what the book is about.
Choose your music.
Similar to images and videos, you'll want to select music that makes sense for the type of book you've written. Drawing on our examples above, if you're publishing a romance novel, you probably won't pick heavy metal music for your trailer. You'll want to find something much softer, perhaps piano or string melodies. Science fiction, thriller, and mystery books will have more intense, quicker music.
You can select music from songs in the public domain, or you can choose from iStock. Or, if you're really adventurous and creative, you can create your own theme.
Select a video creation software.
There's tons of software you can use to create your book trailer. There's no right answer when deciding. Pick the one that's best for you and your trailer.
Here are a few options:
iMovie (if you have a Mac)

ScreenFlow

MovieMaker (if you have a PC)
If you've never made a video before, there will be a learning curve. Be sure to familiarize yourself with the software you're using. Take as much time as you need to create your trailer. Sometimes, simple is the best way to go; don't over-complicate your trailer with unnecessary image, video, and music options. You want your book to shine, not these components.
Where and When to Post Your Trailer
Use YouTube to post your book trailer, that way you can easily share to all your social media platforms: Twitter, Facebook, Instagram, Google+, etc. Post to your author website and blog, and if you have any pre-publication or post-publication press, it'd be beneficial to include this book trailer. Any interviews or book reviews should include it, too.
Post well in advance to your book coming out. A book trailer is meant to build excitement and interest so that readers know that they want to buy your book when it's published. A month in advance would be a safe time to post your book trailer and begin to promote the release of your soon-to-be self-published book.
No matter what you put into your book trailer, if you're proud of the book you've written, that'll come across. A trailer is an excellent way to get readers' attention, but it's the ideas you have and story you've written that will keep their attention.